In 1900, electric cars accounted for about one-third of all vehicles on the road -- and then almost disappeared from the landscape as gasoline-engine models took over. Decades later, technological advances and concerns about the environment spurred their gradual revival, which isn't so gradual anymore: By 2040, more than half of all new cars will be powered only by batteries, according to Bloomberg New Energy Finance estimates. Here's a look back at the evolution of the once and future hot thing, as companies prepare to display their planned and proposed EVs at CES, the year's top consumer electronics show.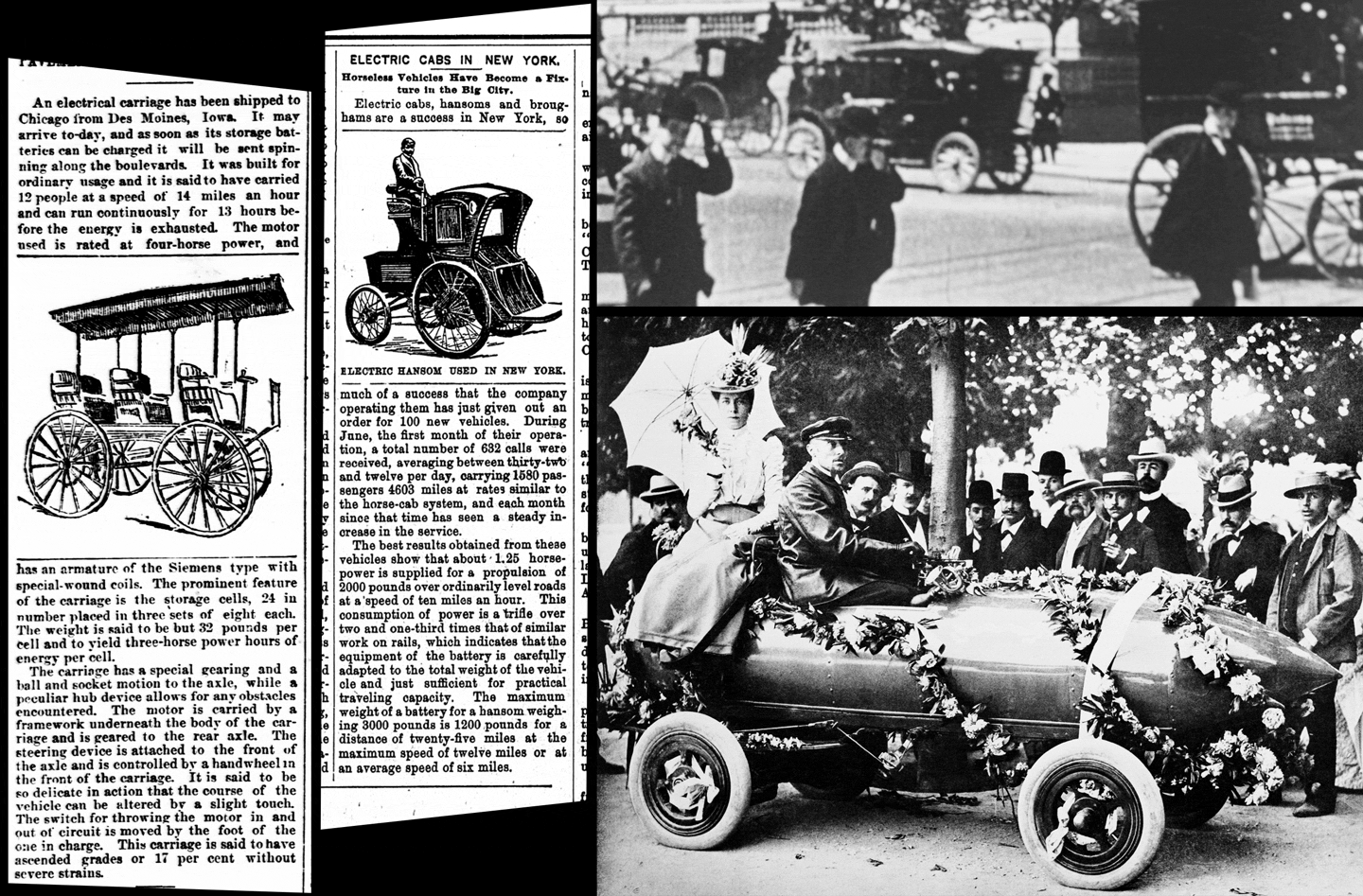 Inventors in several countries begin experimenting with battery-powered vehicles starting in the early 1800s. Robert Anderson in Britain is credited with developing the first electric carriage around 1832 -- a half-century before the invention of the gasoline-fueled automobile. William Morrison, an Iowa chemist, demonstrates the first such model in the U.S., basically an electrified wagon, around 1890. On April 29, 1899, Belgian race-car driver Camille Jenatzy is first to go faster than 100 kilometers (62 miles) per hour, in a electric vehicle he develops himself called La Jamais Contente (Never Satisfied). Electric taxis are popular in cities toward the end of the century. Unfortunately, they're involved in the first recorded U.S. motor-vehicle fatality, when Henry Bliss is hit by a electric New York cab on Sept. 13, 1899.
Left: An article from the Pittsburg Dispatch in 1891 reports the arrival of an "electrical carriage" from Iowa. Second left: An 1897 article in the Abbeville Press and Banner reports on electric cabs in New York. Top: Traffic in New York in the 1900s. Bottom: Jenatzy in La Jamais Contente after a race in 1899.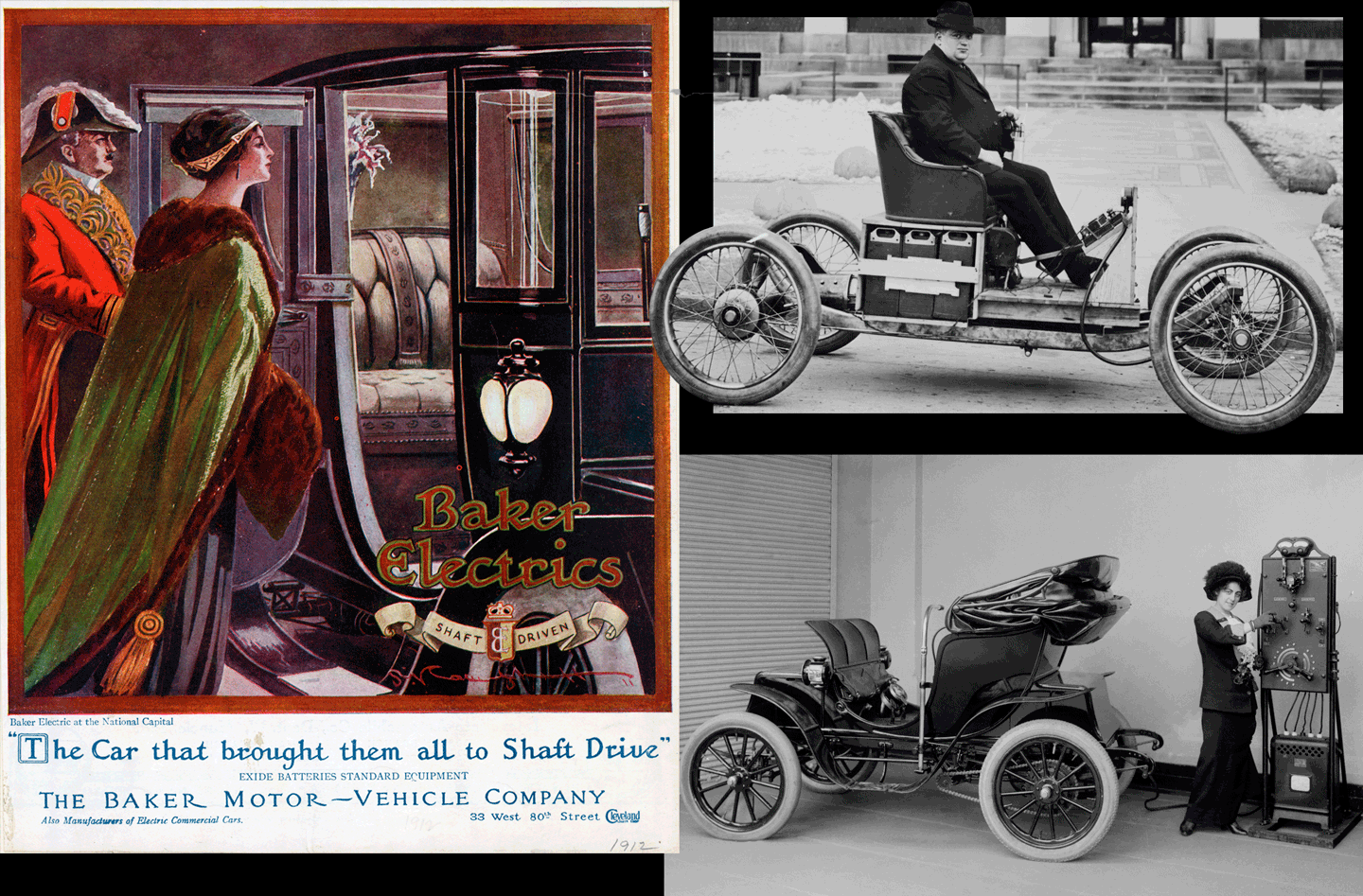 About a third of all vehicles on U.S. roads are electric, powered via a network of charging stations. Automakers market the cars to women, spiffing them up with fancy upholstery, flower vases, clocks and even makeup kits. Companies tout them as quieter, cleaner and easier to operate than gasoline models. Henry Ford and Thomas Edison work on a "cheap and practicable" electric automobile that will "run for 100 miles," Ford
tells reporters
in 1914, but they eventually abandon the project. Ferdinand Porsche -- who developed his first car, the electric P1, at the end of the previous century -- creates the world's first gasoline- and battery-powered hybrid.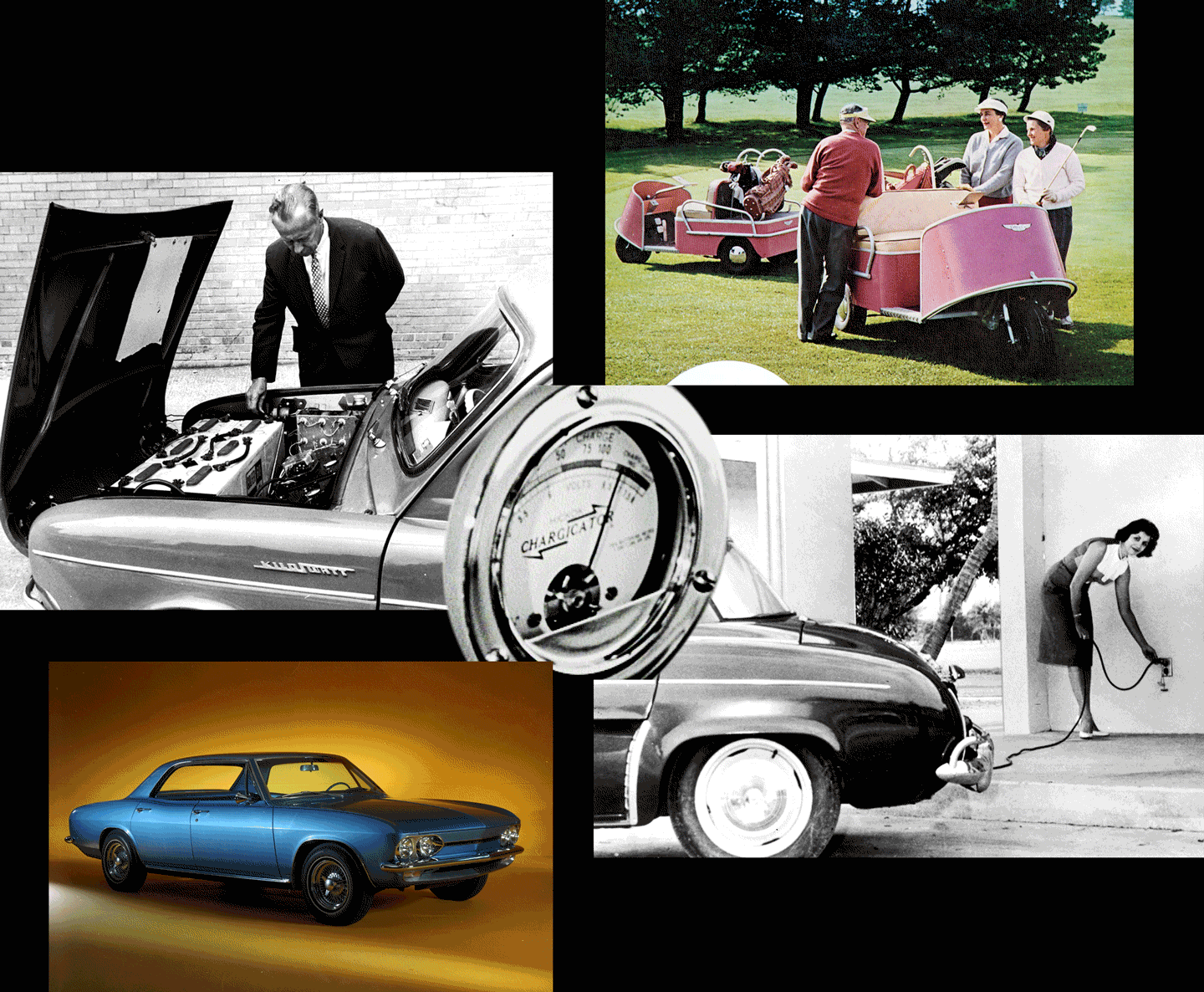 The popularity of electric vehicles declines because of demand for Ford's mass-produced Model T and other gasoline-fueled vehicles, along with widespread adoption of self-starters, introduced in 1912 to replace balky hand cranks that required a lot of muscle. By the early 1930s, few battery-powered cars are left on the road. A new use emerges in 1954, when Lektro introduces one of the first commercial electric golf carts. In 1959, National Union Electric Corp. modifies 100 Renault Dauphines to run on batteries; the new versions are called Henney Kilowatts. Only
47 are ordered
, mainly by electric utilities. In the 1960s other companies, including General Motors and American Motors, produce concept models in response to growing concerns about air pollution from the public and state and local governments.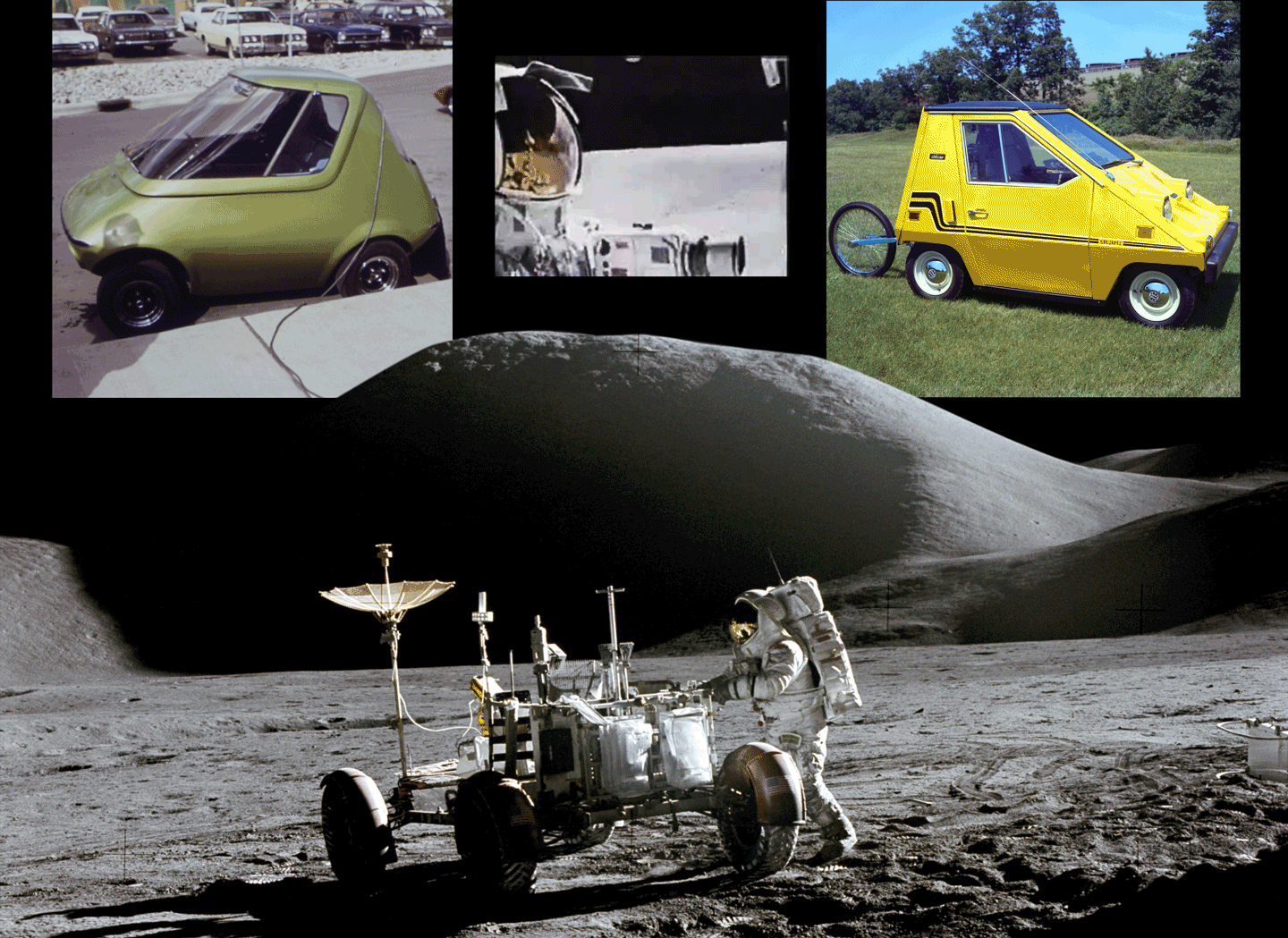 Battery power gets a promotional boost in 1971 and 1972 as the world watches NASA's electric
Lunar Roving Vehicle
-- engineered and built by Boeing and GM -- bounce around on the moon. Soaring gasoline prices later in the decade cause automakers and the U.S. Department of Energy to explore alternative fuels, with GM developing a prototype urban electric car in 1973 and Sebring-Vanguard bringing out its CitiCar. But limited range and performance issues hinder widespread acceptance, spurring work on battery technology.
Left: A GM Urban Electric at the EPA Ann Arbor laboratory in 1973. Center: A film clip from an Apollo astronaut of the Lunar Roving Vehicle on the surface of the moon. Right: A CitiCar used at NASA in 1976. Bottom: Astronaut James B. Irwin works at the Lunar Roving Vehicle with Mount Hadley in the background in 1971.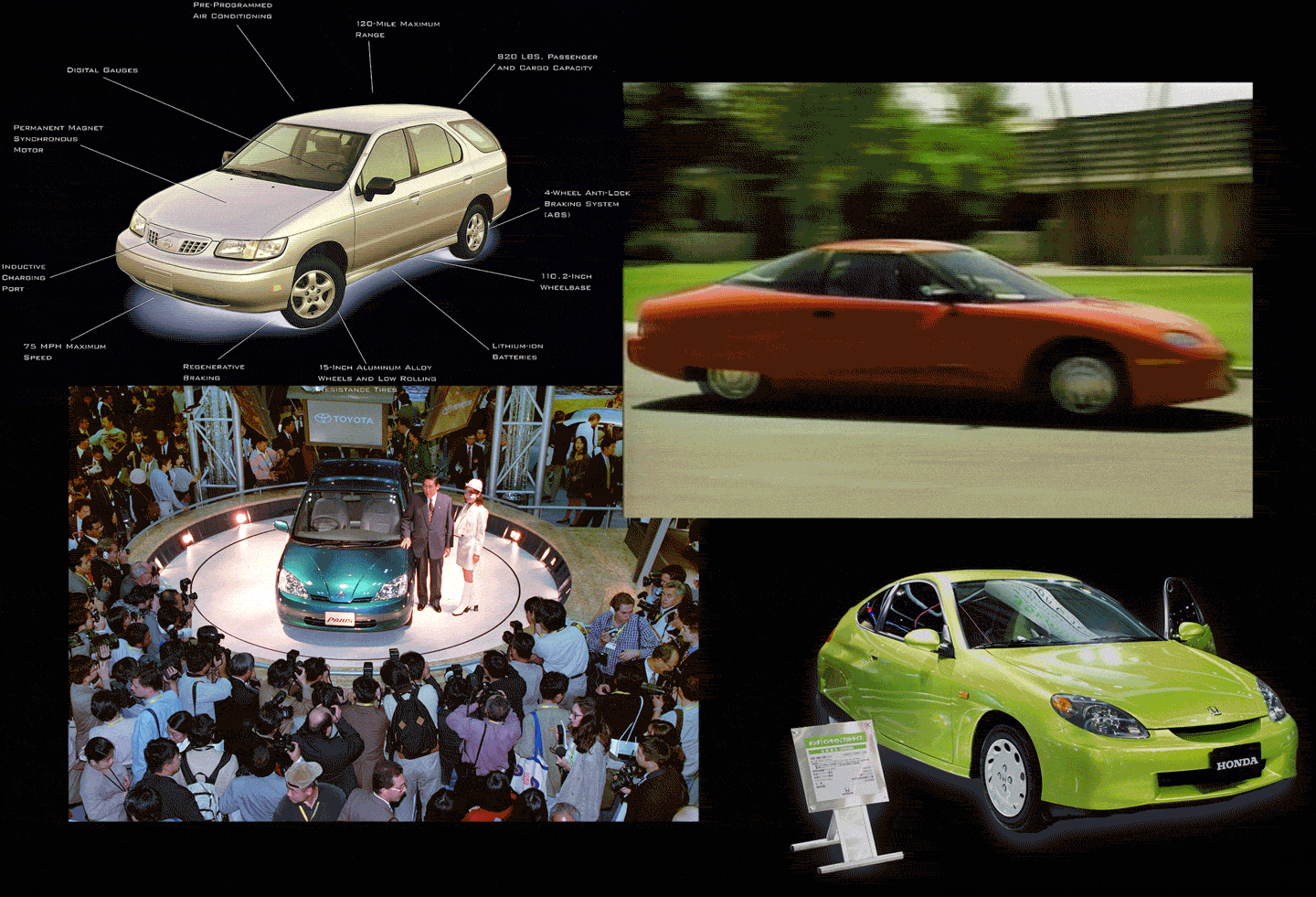 Tightening emission requirements cause auto companies to focus increasingly on alternative-fuel vehicles. In 1997, GM introduces the EV1, making more than 1,000 of the sleek two-seaters and leasing them to customers in California and the Southwest as a market study. The first mass-produced hybrids also go on sale -- Toyota's Prius and Honda's Insight -- and Nissan previews its
Altra EV minivan
, powered by lithium-ion batteries (the same type that will be used later in smartphones and Tesla vehicles). Nissan produces an estimated 200 Altra EVs, with initial models going to utility companies -- reminiscent of the Henney Kilowatt.
Top left: A brochure advertising the Nissan Altra from 1997. Bottom left: Toyota Motor Co. President Hiroshi Okuda introduces the Prius in Chiba, Japan, in 1997. Top right: The EV1 debuts in Los Angeles in 1996. Bottom right: A Honda Insight on display in Tokyo in 1999.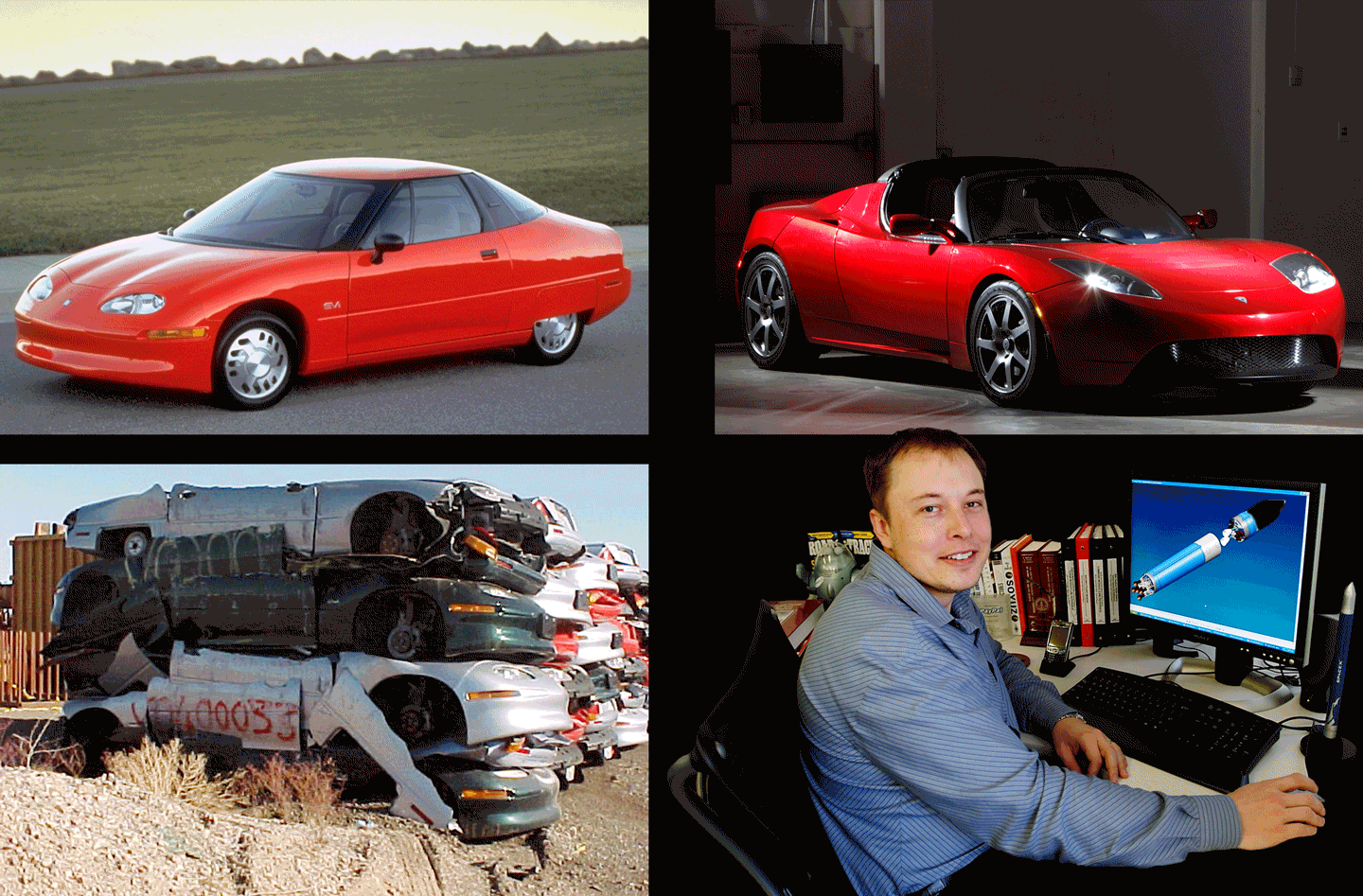 Even though drivers love them, GM destroys -- literally -- most of the EV1s when their leases expire, and the market study ends in 2003. The saga is chronicled in the documentary "Who Killed the Electric Car?" 2003 is also the year Marc Tarpenning and Martin Eberhard incorporate Tesla Motors. Elon Musk, PayPal's co-founder, leads an initial investment of $7.5 million and becomes chairman of the board in 2004. (Musk
tweets
in 2017 that destruction of the GM cars sparked his interest in an electric-vehicle company.) Tesla launches the Roadster sports car in 2008; it's the first production EV to use lithium-ion battery cells.
Top left: An EV1 in 1996. Bottom left: Crushed EV1s at GM's Desert Proving Grounds in Mesa, Arizona, in 2003. Top right: A Tesla Roadster in 2007. Bottom right: Musk in 2004.
Nissan's Leaf goes on sale in 2010; it will become the world's best-selling electric car. Tesla adds the Model S sedan, Model X SUV and lower-priced Model 3. Musk also announces plans to build an electric Semi truck, which will compete with haulers from companies such as Daimler, maker of Mercedes-Benz luxury cars, and China's BYD, backed by Warren Buffett. China's focus on reducing smog and cutting oil imports makes it the world's biggest EV market, spurring hundreds of local manufacturers and startups to fight for share, including XPeng Motors and SAIC Motor. Echoing La Jamais Contente's 1899 speed record, Volkswagen's I.D. R sets a new record in June 2018 for the century-old Pikes Peak International Hill Climb, racing 12.42 miles in 7 minutes, 57.148 seconds. (In 1916 the winning time was 20 minutes and 55.6 seconds.)
Top left: The 2010 launch of the Nissan Leaf in Yokohama, Japan. Bottom left: Musk unveils the Semi electric truck in Hawthorne, California, in 2017. Top right: BYD Co. electric taxis at a charging station in Taiyuan, China, in 2016. Bottom right: Romain Dumas drives the Volkswagen I.D. R
during the Pikes Peak International Hill Climb in 2018. Center: The charging port of a Tesla Model S.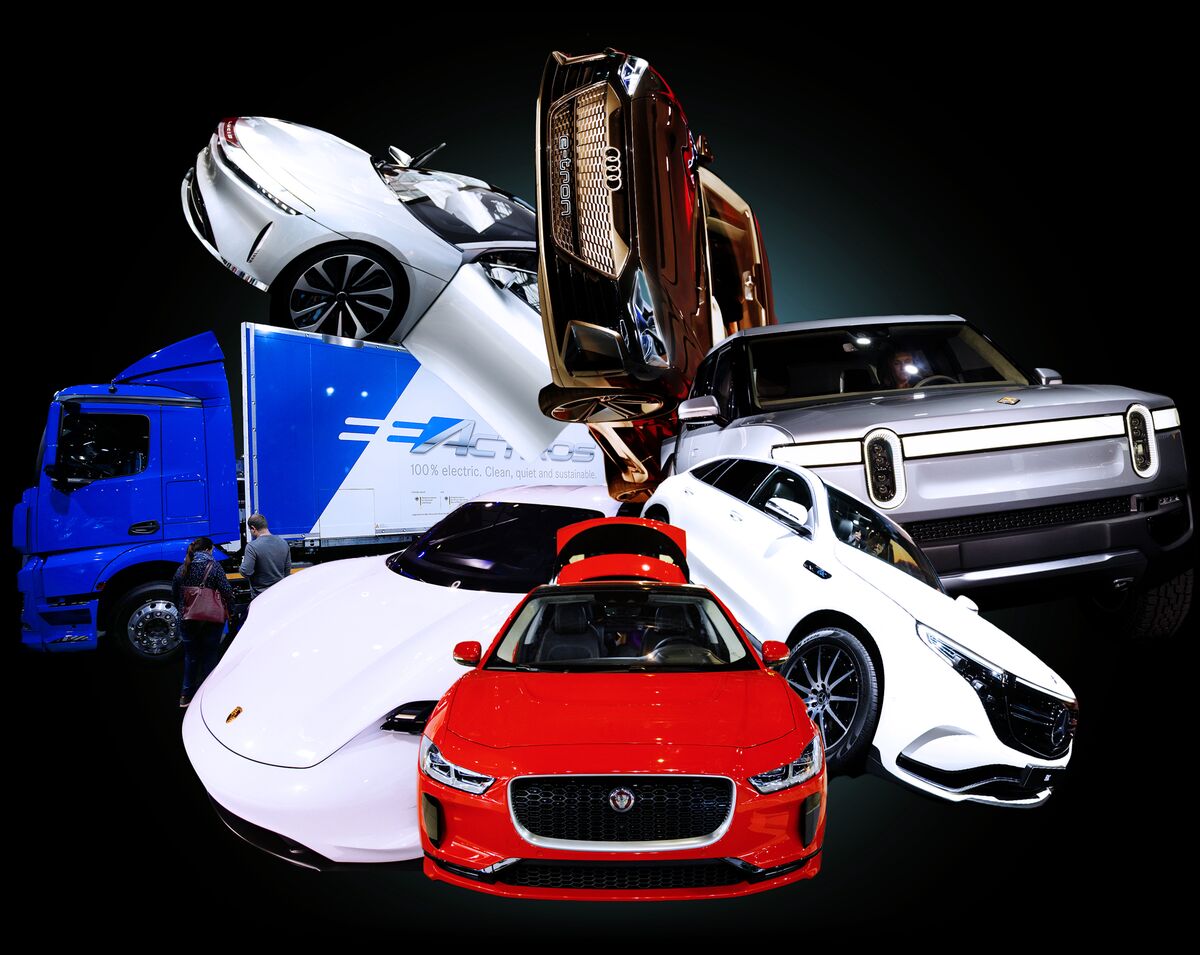 A Glimpse Into the Future
More than 230 battery-powered vehicles will be available globally by 2021, compared with 179 at the end of 2018, according to Bloomberg New Energy Finance. These will include SUVs -- such as Audi's e-tron and Jaguar's I-Pace -- sports cars and pickups like the Rivian R1T. By 2024, BNEF estimates, sales in the U.S. will pass 1 million, 10 times 2017's 104,000 total, and deliveries in China will top 3 million. The main reasons for the surge? Regulations related to air quality and the environment, consumer demand and cheaper batteries. And to think it all started with Robert Anderson's 1832 electric carriage.