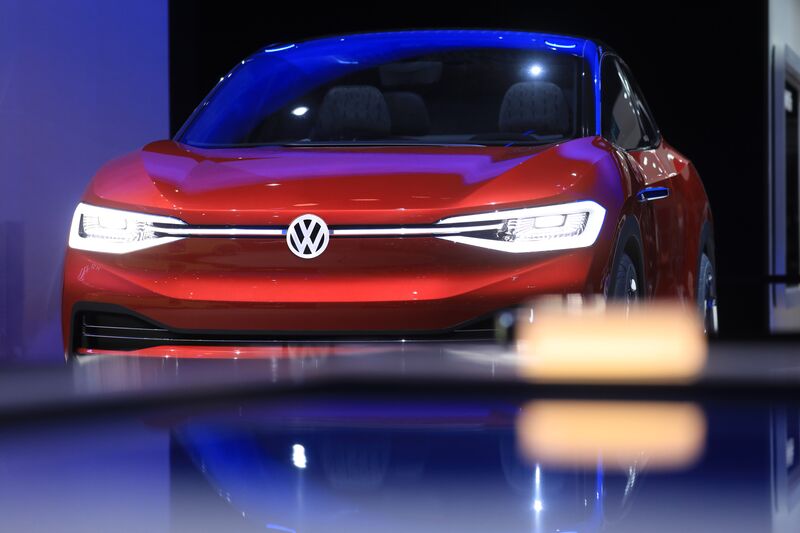 Volkswagen AG
will invest $800 million to start producing electric cars at its only factory in the U.S. as part of a global push to manufacture battery-powered vehicles at eight sites on three continents.
The move will create 1,000 new jobs at the factory in Chattanooga, Tennessee, and additional positions at suppliers, the German company said Monday in a statement. The first vehicle, the I.D. Crozz compact sport utility vehicle, will start production in 2022. VW will also offer an electric version of its iconic bus, dubbed I.D. Buzz, it said.
"The U.S. is one of the most important locations for us," VW Chief Executive Officer Herbert Diess said. "Together with our ongoing investments and this increase in local production, we are strengthening the foundation for sustainable growth of the Volkswagen brand in the U.S."
The world's largest automaker is throwing its enormous scale behind to dethrone U.S. electric-car leader Tesla Inc., stepping up the pace after early tentative moves into the technology. Before committing to a plant in the California manufacturer's home country, VW picked several sites in Germany to make battery cars from late-2019 as well as two factories in China.
"We're known as 'the people's car' for a reason, and our electric vehicles will build on that tradition," VW U.S. chief Scott Keogh said in the statement.
The decision on a U.S. investment comes at a time of rising trade tensions. President Donald Trump has
repeatedly
singled out German carmakers as having an unfair advantage in the U.S. market because they attract lower import tariffs compared to U.S-made vehicles shipped to Europe.
VW has earmarked spending of almost $50 billion through 2023 on developing electric vehicles and digital offerings like ride-hailing and car sharing. The main VW car brand alone plans to sell 150,000 electric cars by 2020 globally and expand deliveries to 1 million by 2025.