If you're pondering your automotive future, it appears you can count on a few things through the rest of this decade. One is that EVs will become more convenient to own as public charging expands and the electric grid is upgraded to handle a huge increase in home demand. Another is that EVs will get a lot better: The EV you buy or lease today could be like an iPhone 5 in 2025 or 2030. Also possible is that a slowdown in the steady improvement of gas-only vehicles will accompany the EV progress as the current flurry of announcements on new electric platforms, models and battery-production facilities reflect a tectonic shift of research and development efforts toward EVs.
Below are some of the new EVs confirmed for production in the next few years, excluding small-batch exotics. Details for many are sparse so far, though some have at least been shown as concepts. We've also included their expected arrival date, but we expect that to be a moving target — particularly when it comes to their lower-priced versions, not just a limited edition of the most expensive configurations at launch. A few might never make it to the U.S. or get out of the gate at all, but we also expect this list to grow as more rumored EVs are confirmed.
In almost all cases, the years listed below are expected calendar years for the start of production, not still-indeterminate model years. Estimated prices where announced do not include destination charges except where noted, and they exclude any potential federal tax credits, which currently total $7,500 for most all-electric vehicles except those from Tesla and GM (both automakers have exceeded the sales quotas on which tax credits are allowed). Note, however, that the federal tax credit could change; current proposals include raising the sales limit to restore it for GM and Tesla, raising the total credit amount or limiting the vehicle prices to qualify.
Acura SUV
Expected: 2024
Honda has confirmed that its luxury brand, Acura, will roll out an electric SUV in 2024. There are no details yet other than that it's being jointly developed with GM as part of an EV partnership. The SUV will use GM's Ultium batteries.
Atlis XT Pickup
Expected: 2022
The XT, from Arizona-based startup Atlis, has a planned price range of $45,000 to $78,000. The truck employs an all-wheel-drive system that uses four electric motors, with estimated electric ranges of 300, 400 or 500 miles. Options include 6.5- and 8-foot beds, dual rear wheels, gooseneck towing, up to 15 inches of ground clearance and payload capacities from 1,000 to 5,000 pounds. Towing capacity ranges from 6,000 to 17,000 pounds, and gross combined weight ratings for fifth-wheel and gooseneck towing ranges from 20,000 to 35,000 pounds.
Audi A6 E-Tron Sedan
Expected: 2023
An Audi A6 E-Tron concept was unveiled at Auto Shanghai 2021, and it is expected to enter production by late 2022. Details are limited, but Audi says the A6 E-Tron will be the first vehicle on a new modular electric platform developed with Porsche that will underpin a variety of cars and SUVs. (Porsche and Audi are both under the Volkswagen Group.) The concept features AWD with two motors that put out a combined 469 horsepower, and Audi says range could exceed 400 miles.
Audi Q4 E-Tron, Q4 Sportback E-Tron SUVs
Expected: Late 2021
The Q4, a small SUV, and its more coupelike Sportback version fit in size between Audi's Q3 and Q5 SUVs. Both will ride VW's modular electric platform and mark Audi's fourth and fifth EVs for the U.S. market. The base versions of both SUVs have a 201-hp motor on the rear axle; AWD versions add a front motor for a combined output of 295 hp. Audi will offer a full range of premium features and options, with the interior featuring a 10.1-inch center display plus digital instruments. The SUVs will be compatible with 125-kilowatt DC fast chargers. Estimated EPA range has been offered for only the most efficient variant so far, the Q4 40 E-Tron, at 250 miles. Audi says to expect a starting price under $45,000.
BMW i4 Sedan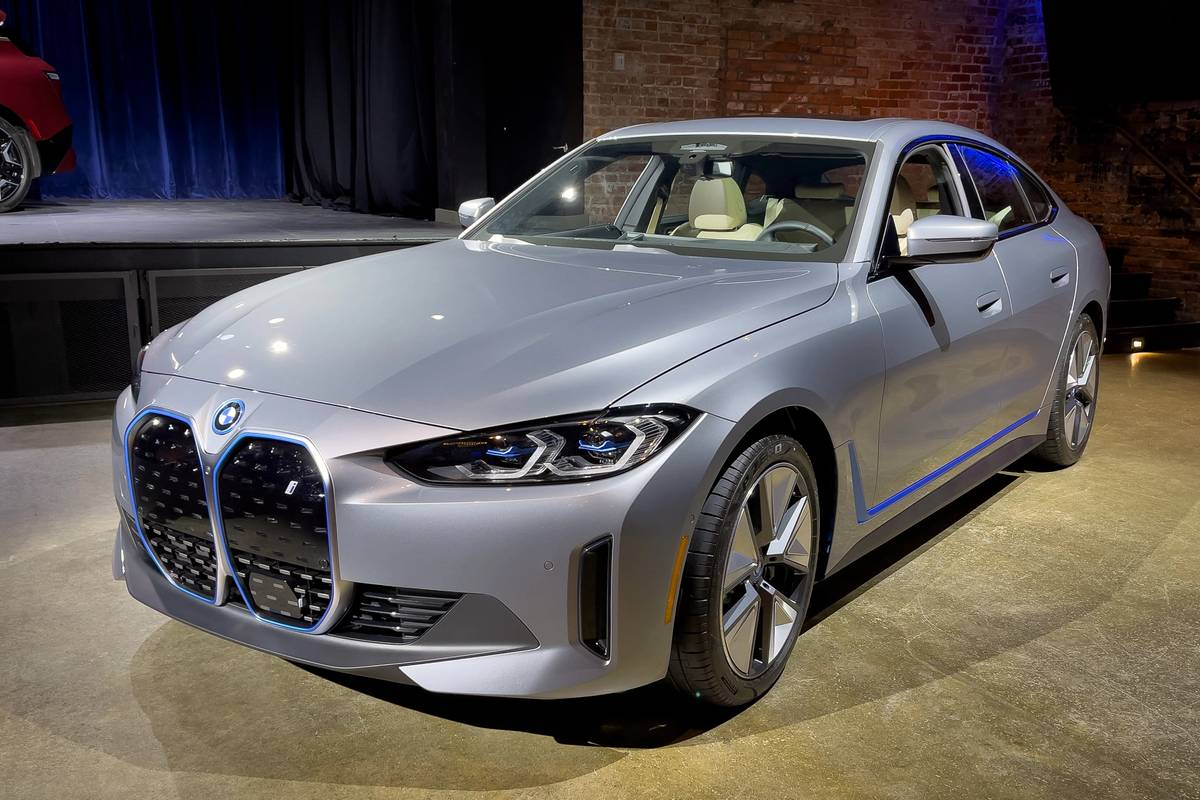 Expected: Early 2022
Depending on your perspective, you could see the i4 as BMW's answer to the Tesla Model 3 or to what its 3 Series compact sports sedan could be in an electric world. The i4 will come initially in two versions. The rear-wheel-drive i4 eDrive40 will put out 335 hp, with an estimated range up to 300 miles and a price of $56,395 with destination. The performance-minded i4 M50 will have an estimated range of 245 miles and start at $66,895 with destination. Its dual-motor AWD system has a Sport Boost function that can add 67 hp, for a total of 536 hp, for over 10 seconds; the M50 also has an adaptive suspension. The i4's interior has sport seats and a curved glass dashboard display, the latter incorporating multimedia and digital instrument panels. The i4 can handle DC fast charging of up to 200 kW.
BMW iX SUV
Expected: Spring 2022
BMW's new flagship electric SUV will arrive with plenty of luxury trim and features, lots of new technology — and a polarizing new BMW look. It will launch with a dual-motor, AWD iX eDrive M50 version, which has an estimated 300-mile range, compatibility with 200-kW DC fast charging, the latest BMW multimedia tech, a free-standing curved dashboard display, top-quality materials and roomy seating for five under the glass roof. The iX will ride a new BMW modular electric platform with combined output of the drive system at an estimated 500 hp.
Bollinger B1 SUV
Expected: 2022
With a design like an old-school Land Rover, the B1 from Michigan-based EV startup Bollinger is a no-frills SUV that emphasizes utility, function and off-road chops. That's all the way down to its crank windows and removable doors, roof, windshield and backseat. Estimated range for the high-riding, 5,000-pound SUV is just 200 miles, but its capabilities for rugged use include a two-motor AWD powertrain, front and rear locking differentials, a 5,000-pound payload capacity and towing capability of up to 7,500 pounds. Pricing is set at $125,000.
Bollinger B2 Pickup
Expected: Late 2021 or 2022
The latest version of this boxy four-seat pickup seems to prioritize ruggedness and off-road capability over maximum range, as the latter is estimated at a modest 200 miles. Like the related B1 SUV, the B2 pickup is priced at $125,000. The truck features an aluminum body, a 4-by-6-foot bed (with a flip-down rear cabin wall to accommodate 4-by-8 plywood), 15 inches of ground clearance, a two-motor AWD powertrain, and front and rear locking differentials. It also features removable roof panels, doors and windshield. Bollinger lists a payload capacity of up to 5,001 pounds and a towing capacity of up to 7,500 pounds. The company also plans cab-chassis versions of the truck for upfitting. It says contract production could begin in late 2021 but has not announced a partner.
Cadillac Lyriq SUV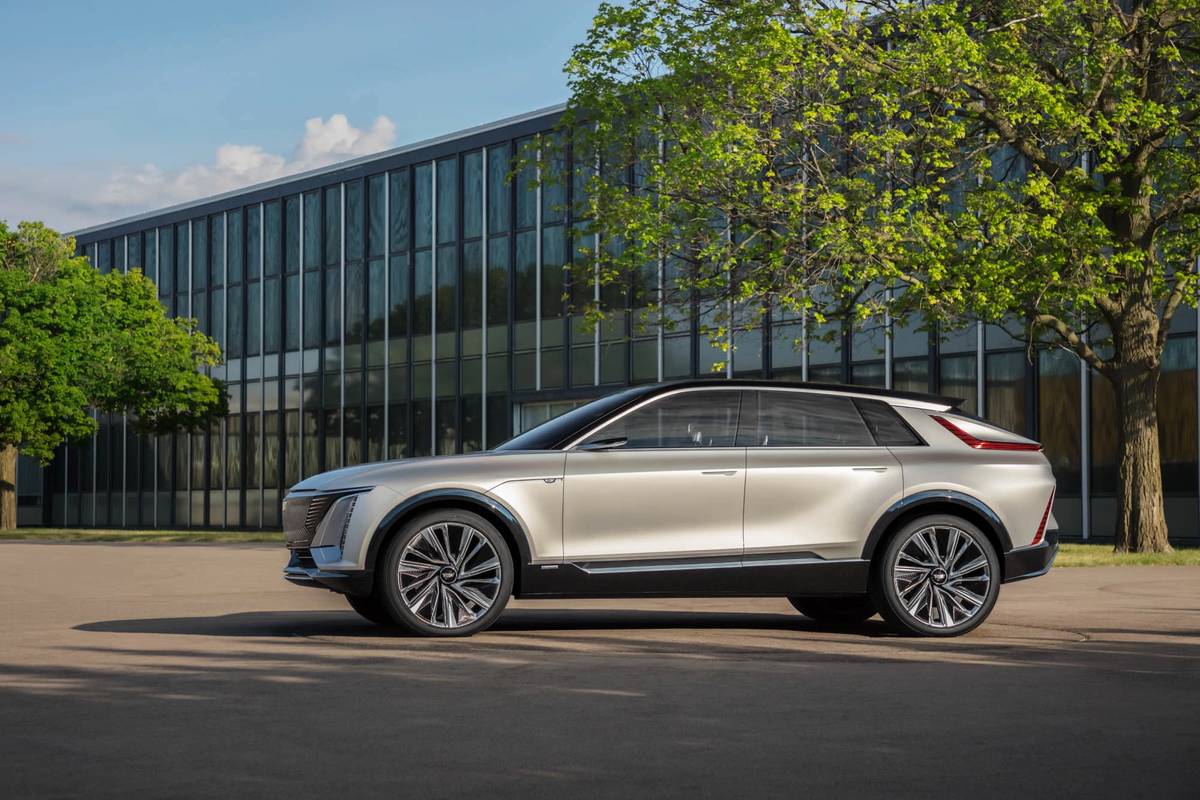 Expected: 2022
Cadillac is on its way to becoming an all-electric brand, and leading the charge will be the stylish Lyriq — a compact luxury SUV with a starting price of $59,990 including destination. The Lyriq will have RWD at launch, with an estimated 340 hp and over 300 miles of range. It will use GM's new Ultium battery pack, also being used in the forthcoming GMC Hummer EV pickup (GMC and Cadillac are both GM brands). It will also be compatible with 190-kW DC fast chargers, Cadillac says. Tech will include GM's latest Super Cruise semi-autonomous driving technology. The clean, simple interior boasts a 33-inch, high-definition widescreen display.
Cadillac Celestiq Sedan
Expected: 2023
It's only a show car concept with few details so far, but the Celestiq is headed for production, according to Cadillac, to be hand built in small batches as the brand's flagship sedan. Expect ultra-swanky styling, technology, personalization options and pricing. Among the few highlights revealed so far are AWD and four-wheel steering, as well as a new smart-glass roof that enables each passenger to control the individual light overhead.
Canoo Pickup
Expected: 2024
The Canoo pickup is a two-seat mini truck that's shorter at 184 inches than a mid-size pickup but has a cab-forward design to allow a 6-foot bed with a novel extender that can take it out to 8 feet. Early details include RWD or AWD, a 200-plus-mile range estimate and an 1,800-pound payload capacity. Design features include multiple storage spaces and flip-down bed sides that can become work surfaces. The startup's co-founder and CEO was recently replaced, and a revised business plan now calls for production at a forthcoming plant in Oklahoma.
Canoo Lifestyle Vehicle Van
Expected: Late 2022
Canoo's Lifestyle Vehicle, a small electric van, features two to seven seats, 188 cubic feet of interior volume, a single motor up front, 250 miles of range and a starting price of $34,750. Other models add premium options, such as a glass roof, wraparound "lounge" seating and adventure-oriented add-ons. A commercial van version also is planned.
Chevrolet Silverado EV Pickup
Expected: Possibly 2023
Not much is known yet, but Chevrolet has confirmed an upcoming EV version of its Silverado full-size pickup. Chevy says it will hail from the same Michigan plant as the Hummer EV (Chevrolet and GMC are both GM brands), with a top range of up to 400-plus-miles and a version of the GM's Ultium platform. Chevy promises a "variety of options" from both retail and fleet versions.
Faraday Future FF 91 SUV
Expected: 2022
This luxury SUV from Faraday Future, a California startup with Chinese connections, recently raised capital that the company says will fund a start of production at its Golden State plant. It says the initial run of 300 FF 91 Futurist Alliance Editions is sold out. The FF 91 Futurist Alliance Edition, a limited-edition flagship model, is reportedly priced above $200,000, though exact pricing has not yet been announced. Two versions of the FF 91, as well as two higher-volume, lower-priced models called the FF 81 and FF 71, will follow through the 2025 calendar year. The FF 91 features a high-end interior, a three-motor drive system putting out 1,050 hp, a claimed 0-60 mph time as low as 2.4 seconds and a promised full load of advanced technology and connectivity.
Ford F-150 Lightning Pickup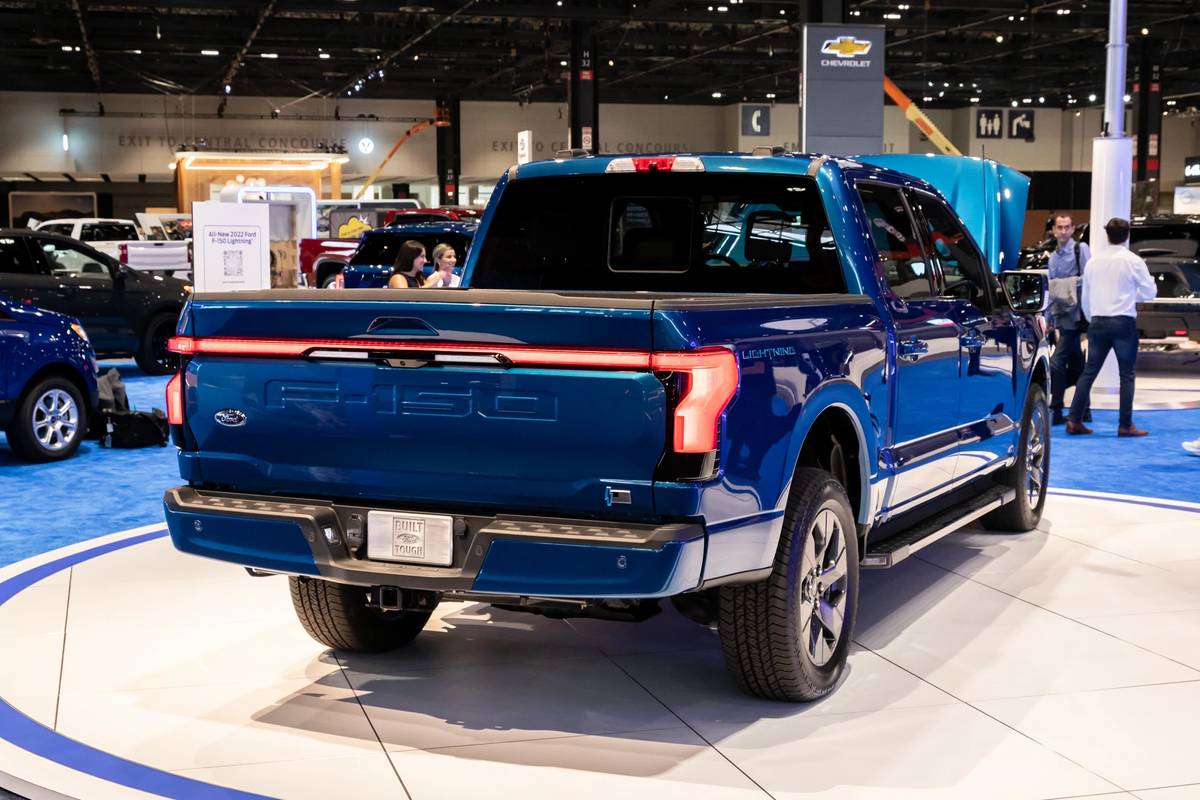 Expected: Spring 2022
Ford says the all-electric version of its best-selling F-150 pickup will range from $40,000 to $90,000. A prototype currently on tour shows a traditional F-150 look with a 5.5-foot bed, as well as more futuristic lighting and other details. Ford estimates a 300-mile range for the top model with its two-motor AWD system, but it also plans a more basic 230-mile version. Capabilities include compatibility with 150-kW DC fast charging and respective payload and towing capacities of up to 2,000 and 10,000 pounds.
Genesis Electrified G80 Sedan
Expected: Spring 2022
While Genesis, a luxury brand from Hyundai, has unveiled a stunning Genesis X all-electric concept car, its first EV looks very familiar. The Electrified G80 looks and feels mostly like the nicely redesigned gasoline G80, and that's not a bad thing. Genesis unveiled the production model in China in April, but no U.S. range estimate was given — though the company cited European and Korean estimates of 310 and 265 miles, respectively. AWD and compatibility with 350-kW fast charging are standard, with 0-60 mph performance estimated at 4.9 seconds. And a feature shared with other forthcoming EVs from Hyundai and Kia (both affiliated automakers) is that the Electrified G80 can allow owners to tap its electric power to charge other devices outside the car. The company says more details, pricing and a launch date will be announced later this year.
GMC Hummer EV Pickup, SUV
Expected: Fall 2021
GM's electric lifestyle-oriented truck returns the Hummer name for an aggressively styled EV halo vehicle, available as a pickup or SUV, that stresses off-road capability and luxury features. The truck uses GM's Ultium battery system, which can accept DC fast charging of up to 350 kW. The sold-out Edition 1, at $112,595 including destination, is due in the fall. It has three-motor AWD, 1,000 hp and a 350-plus-mile range. It will be followed (all prices estimated) by a three-motor truck in the fall of 2022 that will run an estimated $100,000, a two-motor pickup in 2023 at an estimated $90,000 and a two-motor truck in 2024 at an estimated $80,000. Among the features and options for the Edition 1 are suspension modes that can lower or raise the truck as needed, four-wheel steering, a CrabWalk feature that allows all four wheels to turn in one direction in close quarters, and 18 camera views that include forward- and rear-facing underbody visibility. Also available is GM's latest Super Cruise hands-free driving technology.
GMC Electric Pickup
Expected: Possibly 2023
The coming Hummer EV will be GMC's halo truck, but the brand has confirmed a second electric pickup, echoing Chevy's confirmation of an all-electric Silverado pickup. No details were offered — not even whether GMC would call the truck Sierra, its platform sibling to the Silverado. The EV is expected to be more traditional and cheaper than the Hummer, with shared underpinnings and battery tech from the Hummer and Silverado.
Hercules Alpha Pickup
Expected: 2022
Detroit startup Hercules has announced its Alpha luxury pickup, with design by Italian firm Pininfarina and an interior that offers many custom options. Details are limited, but powertrain configurations will include a torque-vectoring four-motor system with up to 1,000 hp and an estimated 350-mile range. A novel option will be a solar-cell tonneau cover.
Honda Prologue SUV
Expected: Early 2024
Honda has confirmed this mass-market electric SUV for early 2024. The automaker has offered no details other than that it's jointly developing the Prologue with GM as part of an EV partnership; as such, the Prologue will use GM's Ultium batteries. Dave Gardner, executive VP of Honda's U.S. arm, confirmed: "Our first volume Honda BEV will begin our transition to electrification and the name Honda Prologue signals the role it will play in leading to our zero-emission future."
Hyundai Ioniq 5 SUV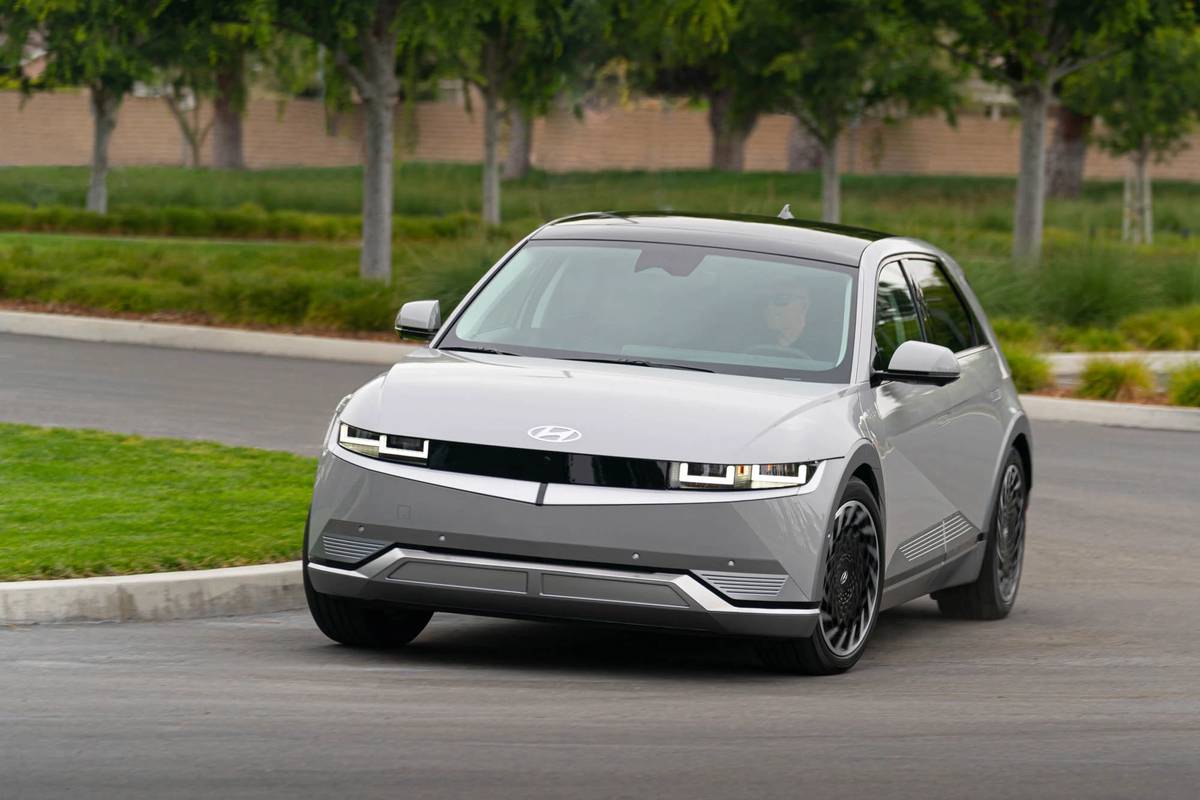 Expected: Fall 2021
Hyundai's Ioniq 5 will extend Hyundai's Ioniq sub-brand of electrified sedans with a compact SUV offered initially in California and 17 other states. At 182.5 inches long, it's about the length of Hyundai's 2022 Tucson SUV. Targeted range is 300 miles for the single-motor RWD version and 269 miles for the two-motor AWD system offered on all three trim levels. The SUV will also offer a full range of driving-assistance features. The Ioniq 5's futuristic interior features twin 12.3-inch displays and an innovative sliding console. Other options include a glass roof, compatibility with 350-kW DC fast charging and a capability to use the car to charge other devices, such as a scooter or camping gear. The Ioniq 5 shares a platform with the EV6 from sibling brand Kia. Pricing has not yet been announced.
Jeep Grand Wagoneer EV SUV
Expected: By 2025
Jeep announced in July that it will offer a zero-emissions vehicle in "every SUV category" by 2025, beyond the plug-in hybrids it's now rolling out. It showed a Wrangler Magneto EV concept in the spring, but the only zero-emissions EV that Jeep has specifically promised by 2025 is an electric version of the forthcoming Jeep Grand Wagoneer flagship, which we have already speculated will be America's answer to the Land Rover Range Rover.
Kia EV6 SUV
Expected: 2022
Kia's new EV6 SUV shares a platform with the Ioniq 5 from affiliated automaker Hyundai, but key differences involve sportier styling and interior design, as well as a GT performance model. Kia will offer two single-motor RWD versions with up to an estimated 300 miles of range, as well as a two-motor AWD system. Available features include high-speed fast-charging capability and a system that allows using the car to charge other gear, such as camping equipment or an electric bike. Tech includes various driver-assistance systems, dual 12.3-inch interior screens and a head-up display. Sales will begin with a fully loaded First Edition of 1,500 units, and Kia expects to offer the EV6 in all states by early 2022. The sportier GT model coming in late 2022 has a 576-hp drivetrain and an estimated 0-60-mph time of 3.5 seconds.
Lexus EV SUV
Expected: 2025 at the latest
Lexus, which has been slow to tout EVs, announced in March that it will accelerate plans to offer electric variants of all models by 2025. While no first vehicle was designated, it's a safe bet that Lexus will drop an EV in the hot category of luxury compact SUVs — particularly since Lexus also unveiled the LF-Z Electrified, a compact SUV it called "a BEV concept car symbolizing the next generation of Lexus." It's unknown how many of the show car's features and tech will make it to a production vehicle, but Lexus did say it rides a new electric platform and incorporates a new "Direct4" four-wheel-drive system.
Lordstown Motors Endurance Pickup
Expected: TBA
This startup that took over a former GM plant in Lordstown, Ohio, has announced a pickup with a novel all-wheel system that puts one motor in each wheel hub. It said the truck would start at $55,000. A launch was planned for 2021, but financial problems and an investigation by the Securities and Exchange Commission have clouded the company's future.
Lucid Air Sedan
Expected: 2021
California-based startup Lucid aims to begin first deliveries of its luxury five-seat sedan in late 2021. The sedan seems aimed to rival the Tesla Model S, and Lucid says it will offer one or two motors, AWD and up to 1,080 hp. That top model will do 0-60 mph in as little as 2.5 seconds (for reference, the acceleration time for the Model S Plaid is 1.99 seconds) and will offer an estimated range of 406 to more than 500 miles (the Model S Long Range is rated at 405 miles). Lucid's driver-assist technology using cameras, radar, ultrasonic sensors and lidar is called DreamDrive — Lucid terms it the "invisible co-pilot." A signature feature of the luxury interior is a 34-inch glass dashboard display. The vehicle offers up to 300-kW fast charging and Lucid has a deal with Electrify America for buyers to get free access to its high-speed charging network for three years. Lucid plans a direct-to-consumer business model with company-owned sales "studios" and service centers. Pricing starts at $77,400.
Mazda MX-30 SUV
Expected: Late 2021
Mazda's first EV will have an unusual design — a subcompact SUV with no middle pillar and rear-hinged half-doors, an arrangement that evokes the former Honda Element. The city-sized SUV will have FWD, a relatively small 144-hp electric motor and a 35.5-kilowatt-hour battery. A U.S. EPA range estimate has not yet been announced, but the MX-30 is rated at 124 miles under the more generous European testing standards. The interior features eco-friendly materials and a "floating" center console with cork trim. Mazda also says it has a charging partnership with the ChargePoint network but has not yet offered details. Besides the battery-only model, Mazda says it will offer the MX-30 down the road as a plug-in hybrid with a range-extending gasoline generator based on a Mazda rotary engine. Have her husband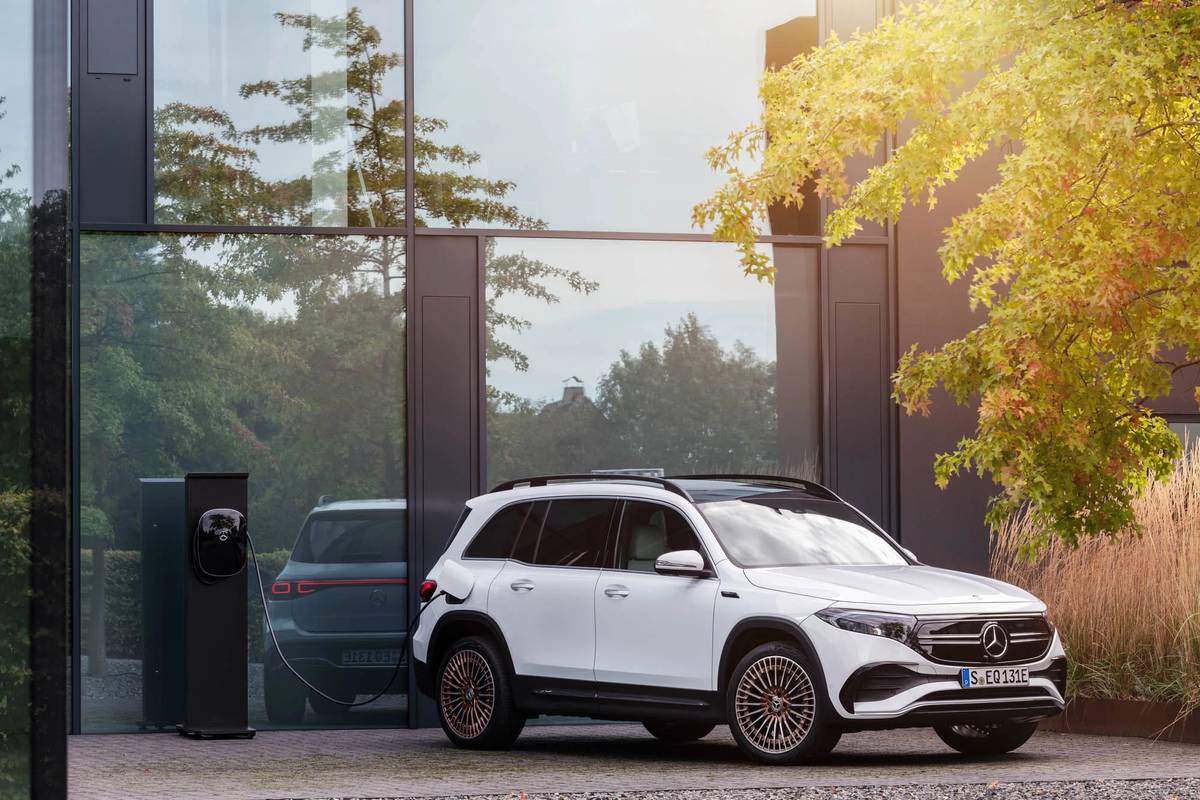 Expected: 2022
The EQB is based on the Mercedes GLB, a small SUV, though with some EV-specific styling cues and lighting accents. The EV will launch first in China, and U.S. specs are not final. But it still will have up to seven seats, plus an optional third row, a powertrain with up to 268 hp, and FWD or AWD. China will launch with a 288-hp AMG version. The interior also will combine some EQB-specific details with the latest MBUX multimedia system. The EQB will accept DC fast charging up to 100 kW. Mercedes says that it will have cargo space only slightly less than that of the gas-only GLB, plus a flat-load floor.
Mercedes-Benz EQE Sedan, SUV
Expected: 2022
On the heels of the new EQS flagship EV sedan will come Mercedes' EQE, an electric alternative to the E-Class sedan. Mercedes recently released a teaser photo of the sedan, which will ride a version of a new, dedicated electric platform used for the EQS. No details were given, but the car will be revealed in Germany in September. Mercedes also announced earlier that an SUV variant of the EQE, with details to come, would go into production at its Alabama plant sometime in 2022.
Mercedes-Benz EQS Sedan, SUV
Expected: Late 2021
Many consider the Mercedes-Benz S-Class a benchmark for big luxury sedans, and the forthcoming EQS, which Mercedes calls its first vehicle fully designed to be electric, can carry that status among EVs. Initially the EQS will come in two versions, an EQS450 Plus with single-motor RWD (329 hp) and the EQS580 4Matic with two-motor AWD (516 hp). A higher-performance version with "up to 630 hp" will come later, possibly under Mercedes' AMG moniker. The EQS is just slightly shorter than the gasoline S sedan, with a sleeker profile and shorter hood. The hallmark feature of the plush interior is what Mercedes calls its MBUX Hyperscreen, a 56-inch (measured diagonally) curved glass display containing a 12.3-inch digital instrument panel, 17.7-inch central touchscreen and 12.3-inch passenger display. Just the instrument display and central touchscreen are standard on the EQS450 Plus. Like with the conventional S, a wide range of luxury and pampering options will be offered to personalize the interior. Mercedes also has announced that an EQS SUV, with details to come, would go into production sometime in 2022.
Mercedes-Benz G-Class Electric SUV
Expected: 2024
No details were provided, but during a recent livestream presentation of Mercedes' electrification plans, the brand confirmed a 2024 rollout of an EV version of the high-end G-Class SUV.
Nissan Ariya SUV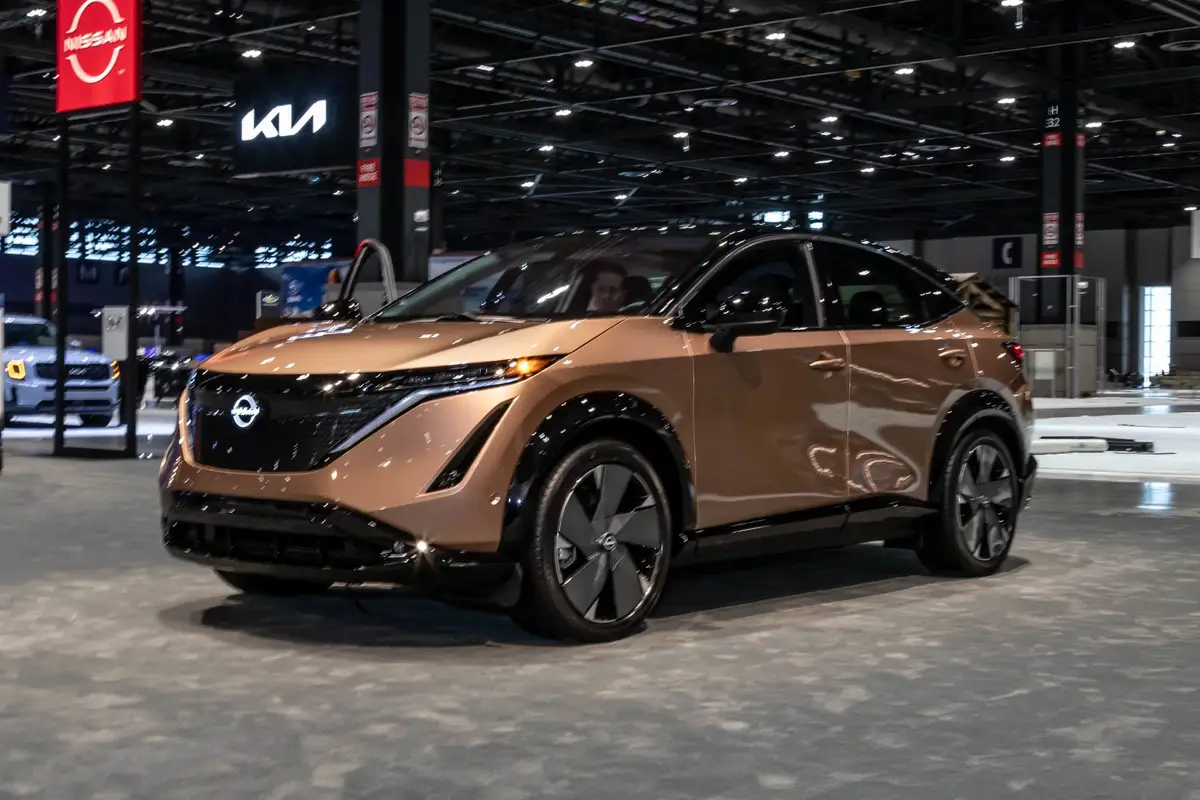 Expected: Late 2021
The Ariya has a new name, but the family lineage is apparent. It looks and feels like the next generation of Nissan's high-style Murano SUV, and it just happens to be electric. The automaker that pioneered mass-market EVs in the U.S. with the Leaf sedan will wade into the growing competition of upscale electric SUVs with the Ariya. The SUV will offer FWD or dual-motor AWD and a choice of 65- or 90-kwh batteries, the latter extending maximum FWD range to an estimated 300 miles. The Ariya's dimensions roughly equal those of Nissan's Rogue compact SUV, and the airy interior carries a minimalist design and twin 12.3-inch screens. The SUV also features a sliding center console that can move forward or back. The Ariya will be the first Nissan vehicle in the U.S. market with a new version of its ProPilot Assist system, which will combine adaptive cruise control with hands-free lane centering on specified roads. Nissan says the starting price will be "around $40,000."
Porsche Macan EV SUV
Expected: 2023
A Macan EV is on the way, and Porsche board member Michael Steiner has promised it "will be the sportiest model in its segment." The all-electric Macan will ride a new, premium modular electric platform and have 800-volt architecture like the current Taycan electric sedan, but it's expected to offer more than the Taycan's 227-mile range to compete with longer-range rivals such as the Tesla Model Y. The design is expected to be similar inside and out to the just-updated gasoline Macan, and Porsche says the two versions will be sold side by side.
Ram Pickup
Expected: 2024
At a day of presentations regarding electrification for parent company Stellantis, the Ram brand announced that it will roll out a Ram 1500 full-size electric pickup in 2024. No other details were provided.
Rivian R1T Pickup
Expected: September 2021
The sold-out Launch Edition of Rivian's R1T pickup, with an estimated 300-mile range and a price of $73,000, is scheduled to begin deliveries in September. The automaker's online configurator says to expect deliveries in January on new orders of the R1T's available Adventure Package and Explore Package versions, with estimated prices of $73,000 and $67,500 respectively and the same 300-mile range. A battery pack that extends range to 400-plus miles will run another $10,000. The R1T uses a four-motor AWD system with a claimed 0-60 mph time as low as 3 seconds; it comes as a crew cab with a 4.5-foot bed. The R1T emphasizes off-road capability, with 14 inches of ground clearance and the capability to ford up to 3 feet of water. Options include a built-in camp cooking system ($5,000), as well as a custom three-person tent ($2,650). Rivian lists towing capacity at 11,000 pounds with a 50% reduction in range. The California-based EV startup has a production plant in Normal, Ill..
Rivian R1S SUV
Expected: Early 2022
Like its sibling R1T pickup, the Rivian R1S luxury SUV emphasizes off-road capability, with similar 14-inch ground clearance (which can be lowered by about 6 inches when parked) and a 3-foot fording depth, as well as four-motor AWD. Rivian will offer it with five or seven seats and two trim levels — the Adventure ($75,500) with a lush interior or the athletic-flavored Explore ($70,000). The Launch Edition ($75,550) is sold out. The R1S features a glass roof, with a removable option promised for later. Adventurous gear options include various cargo-management systems and a rooftop tent ($2,650). Rivian says its standard driver assistance system, which has 11 cameras, five radar sensors and 12 ultrasonic sensors, will allow hands-free operation in some circumstances. Initial range will be an estimated 300 miles, a longer-range version and a 250-mile version offered down the road.
Subaru Solterra SUV
Expected: 2022
Subaru's forthcoming electric SUV — named Solterra, a combination of the Latin words for sun and Earth — will ride a dedicated EV platform developed jointly with Toyota. The automaker has provided few details but says the Solterra EV will feature state-of-the-art safety tech and AWD in what it calls "the natural evolution of Subaru all-weather, all-road performance."
Tesla Cybertruck Pickup
Expected: 2022
Tesla's lifestyle pickup is expected to retain the wild, "Blade Runner"-inspired trapezoidal styling and stainless-steel body of the concept introduced in 2019. Tesla says the crew-cab truck will offer one-, two- and three-motor versions with 250, 300 or 500 miles of range, respectively, and RWD or AWD. Maximum specs involve 0-60 mph in 2.9 seconds, a payload of up to 3,500 pounds and a towing capacity of up to 14,000 pounds. Features include a 6.5-foot bed with a retractable cover, four-wheel steering and pricing currently set at around $40,000, $50,000 and $70,000 for the three versions. The start of deliveries had been planned for 2021, but Tesla plans to assemble the Cybertruck at a plant still under construction in Texas, so 2022 looks more likely.
Tesla Roadster Sports Car
Expected launch: 2022
A sexy successor to Tesla's original Roadster was announced in 2017, and its aspirational supercar specs were jaw dropping: a three-motor powertrain, 200-kwh battery and AWD capable of 0-60 mph in 1.9 seconds, a top speed north of 250 mph and a 620-mile range. But the 2020 target launch has slipped, and comments by CEO Elon Musk indicate that development and production considerations will push the rollout to late 2022 (after the Cybertruck). You can reserve a base car now for a mere $50,000 against the starting price of $200,000, but if you want to claim one of the first 1,000 Founder's Edition cars, you'll have to plunk down its full $250,000 tab.
Toyota bZ4X SUV
Expected: 2022
Toyota says a production version of its bZ4X Concept (ideally with a more memorable name) will roll out next year, riding an EV platform jointly developed with Subaru and Toyota. The bZ designation denotes "Beyond Zero," and Toyota has said seven of the 15 EVs it plans by 2025 will carry the bZ badge. The SUV appears to be compact in size and has a jointly developed AWD system.
Toyota Pickup
Expected: By 2025
Toyota's announcement this spring of electrification plans included a promise of 15 all-electric vehicles by 2025. The automaker said the portfolio will include an electric pickup. It did not specify whether the truck would be a variation of the full-size Tundra or mid-size Tacoma, or something entirely new. The automaker only said it "intends to bring electrification to its pickup truck lineup in the near future, including hybrid and BEV powertrains."
Volkswagen ID.Buzz Van
Expected: 2023
VW has confirmed that this small electric van, marketed under the ID electric sub-brand (led in the U.S. by the new ID.4), will enter production in 2022, with an initial launch in Europe. Carsten Intra, VW's commercial vehicle division chief, told Car and Driver magazine that the ID.Buzz will arrive in the U.S. in 2023. A concept vehicle of the same name has styling cues that evoke VW's Microbus of old, but recent spy photos of a commercial version suggest VW toned down the retro styling considerably. While short- and long-wheelbase versions, as well as a commercial-van configuration, will come to some markets, the U.S. is expected to get just the larger passenger version (the concept sat seven), according to Car and Driver's report. It will ride VW's modular electric platform, with RWD or AWD and perhaps a new name like the ID.4, which was loosely based on the ID.Crozz concept.
Volkswagen I.D. Space Vizzion Wagon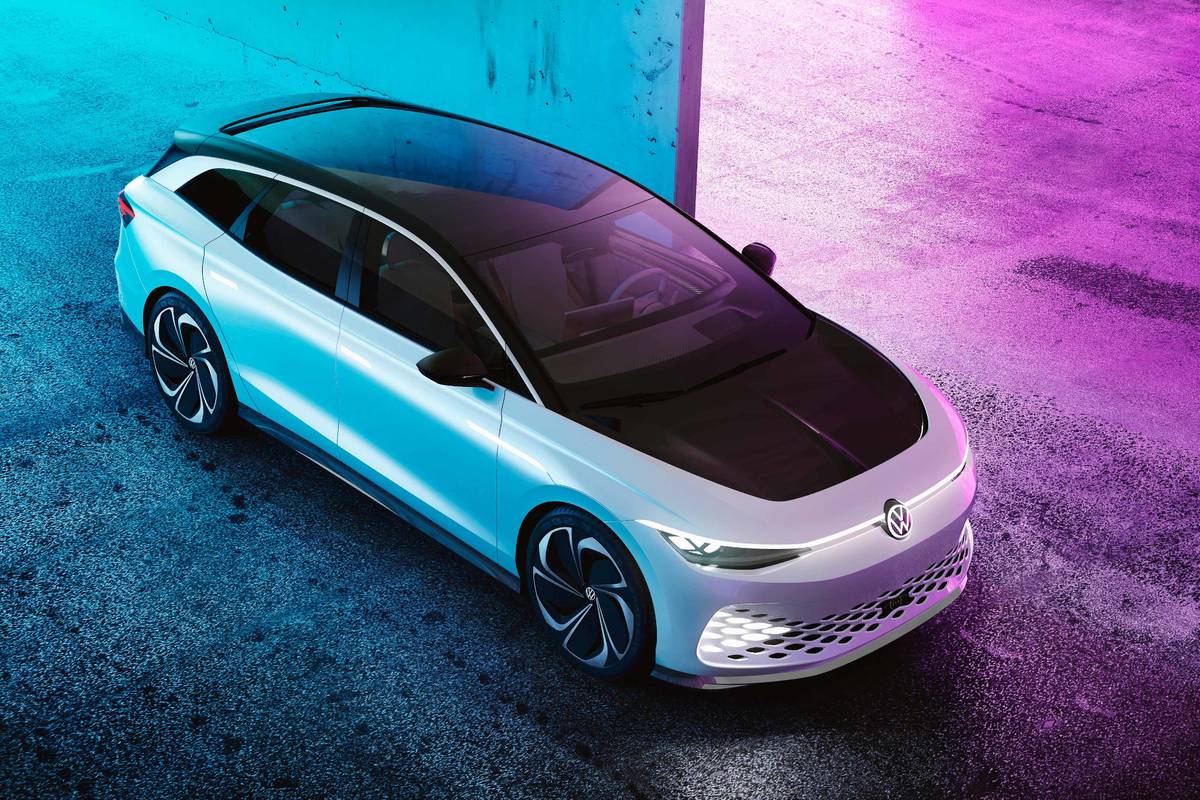 Expected: 2023, maybe
VW has confirmed a production version for this big wagon in 2022. The concept that preceded it was first shown in the U.S. as a near-production concept with much fanfare at the 2019 Los Angeles Auto Show. The Space Vizzion is not yet a sure thing for the U.S. market, where wagons are a tougher sell, but it offers SUV practicality with a lower, carlike profile that could provide some aerodynamic advantages to improve the driving range. Perhaps VW will present the wagon as more SUV-like, comparable to the current, similarly sized Audi A6 Allroad from the automaker's premium brand.
Volvo C40 Recharge SUV
Expected: Early 2022
The first Volvo-brand EV was the 402-hp XC40 Recharge, an all-electric version of its small XC40 SUV that had 208 miles of range. The electric-only C40 Recharge essentially is the XC40 EV with a coupelike fastback roof and a price nearly $5,000 higher. The C40 uses the same two-motor AWD and 78-kwh battery, and it's expected to have a range similar to the XC40 Recharge's 208 miles. Features include a panoramic moonroof, 360-degree camera system and Volvo's Pilot Assist technology. The C40's price includes 250 kwh of free charging at Electrify America stations, plus a year of discounted charging after that. Sales of the C40 will come only through Volvo's online ordering system.
Volvo Flagship SUV
Expected: 2023
On its way to becoming an all-electric automaker by 2030, Volvo will roll out an electric successor to its flagship XC90 SUV, though the forthcoming EV will get a new name. CEO Hakan Samuelsson told Automotive News Europe he didn't want to call it the new XC90 because it's really "a first of its kind." He said that among Volvo firsts for the SUV will be a new platform, standard lidar for its driver assistance and safety tech, and two-way charging so the EV's stored power can be tapped for other needs. A possible design direction for the new SUV is Volvo's Concept Recharge unveiled in June. The concept uses flexible packaging possibilities to create a sleeker exterior and roomier interior. Volvo plans to reveal the new SUV's name in 2022, with deliveries starting in 2023. An electric successor to the current, smaller XC60, meanwhile, could arrive by 2025.